Stick your neck out for turtles on World Turtle Day! 
Turtles are some of the oldest creatures in the world, having survived multiple mass extinction events.  They are true global citizens, migrating thousands of miles a year, living for over a century and are able to live both on land and the sea.  This is what first fascinated me about what has become my favorite animal.  Since then, I've been involved with turtle conservation for a few years now having released turtles into the Mary River with The Australian Freshwater Turtle Conservation and Research Association, and more recently, I worked with the government and elders in Cape York to reach a moratorium on sea turtle and dugong killing as well as cleared ghost nets that contained turtle skeletons during beach cleanups.
Well, little did you know, there was an initiation that I had to pass before being accepted into the turtle conservation world.  My first turtle conservation action was with Wildlife Warriors Che Philips and Jon Hangar from the Australian Wildlife Hospital when we were dispatched to release a 100-year old turtle that was entangled in a shark net and had lost its front flipper.  That was a rewarding experience, but later that same day another rescue call came in for century old turtle had been struck by a boat and needed hospitalization.  It took a lot of people to safely load the turtle into the rescue vehicle, but the turtle wasn't going in without a bit of a fight.  Do you know how strong a turtle's flippers are.  Well, I found out the hard way and Seven News captured it all on tape for the enjoyment of public and even the news room found it hilarious… but I wasn't laughing until a day later.
LET ME TELL YOU, IT WAS WORTH IT!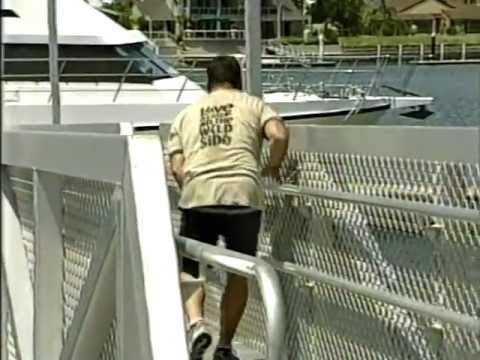 In the future, the conservation non-profit Ecoforce will be pushing for the removal of shark nets on the Gold Coast, so turtles, humpback whales and other marine animals don't continue to become entangled, losing their life or their flippers.  And next time I go to protect turtles, I'm going to wear some extra protection myself!
~ KC